About Oceanside Glasstile®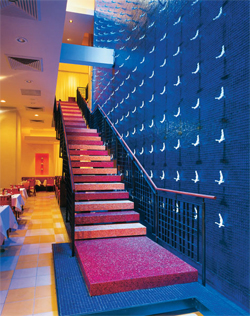 Oceanside Glasstile currently offers seven glass tile product lines: Tessera; Casa California; Facets; Haiku; Minerali; Ritual; and Terrian . Each line uniquely embraces the glass medium.
Tessera hand-cut glass mosaic tiles are offered in four different sizes (1x1, 1x2, 2x2 and 1.75" Hexagon) and come sheet-mounted. These mosaic glass tiles can be used to produce a variety of field patterns, border designs and medallions.
Casa California metallic and translucent glass tiles offer larger modules that can be used in almost any glass tile application. Ocean motifs and contemporary relief pieces characterize this line, and several trims are available to address the designer's vision.
Facets is a sparkling collection of intricately detailed borders and file tile patterns featuring gem-like mini glass tiles. Each is made-to-order in your choice of colors from our Tessera color palette.
Haiku decorative glass tiles exhibit subtle woven designs and elegant nature themes.
Minerali flooring tile, with its high skid resistance, is an excellent tile for floors and provides an exquisite complement to natural stone materials. The wild color variation and sandy surface texture make this an extremely versatile product.
Ritual features an elegant matte finish. The smooth texture and neutral palette of Ritual provide a subtle beauty that creates a stunning juxtaposition of surface and depth when combined with other Oceanside Glasstile products.
Terrain is a naturalistic collection of liners and decos in Art Deco-influenced designs. These striking accents feature stylized water, foliage, and geological patterns.

But Oceanside Glasstiles aren't just beautiful - they're ecologically sound. Many of our tile products were discarded glass bottles once upon a time. Recycled glass is cleaned and crushed, and the resulting substance, called cullet, becomes the raw material used in producing glass tiles. Some Oceanside Glasstile products consist of up to 85 percent recycled content! Tiles made from recycled glass can be used in all tile applications, including pools, counters, walls and residential flooring projects.

Oceanside Glasstile's success stems from the marriage of glass tile technology and an enduring belief in the need for beauty in our everyday lives. Oceanside Glasstile's recycled glass tile products are an obvious choice for those who are environmentally aware but also desire beauty and style.
---
---