Pet-Friendly Carpet
See More about Pet-Friendly Carpet >>>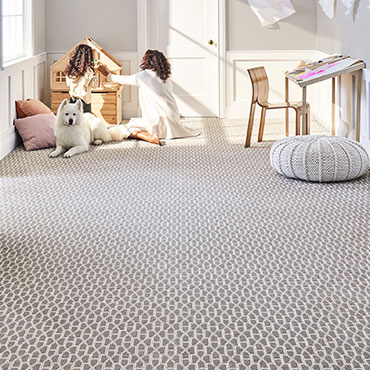 A stylized depiction of traditional folded-paper art, this layered geometric pattern makes an effortlessly purrfect impression. Mimicking the shaded recesses and crisp lines that give folded paper forms depth and definition, the fibers in this STAINMASTER® PetProtect® design make use of different cut and loop effects to lend a modern edge to a reflection of a centuries-old practice. This pattern comes in 12 captivating tones.
---
NOTE:
Exploring Flooring Inc does not carry every style of product. Check with us first about a particular product or to see if your product choice is available for special order.
---

---
Anderson Tuftex Carpet
We craft products designed with the ideals of our customers in mind and then match them to their perfect home. We sell craftsmanship and timeless design principles. We sell simplicity and quality, purpose, refinement and comfort. We sell natural beauty that doesn't fade.
---
Profile
|
Website